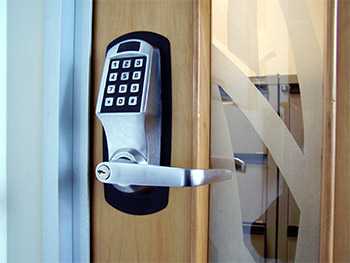 As business owners, we understand the time and money investment needed to successfully grow your business. Wondering if your employees and business is safe should be the least of your concerns as your hands are already full, our commercial locksmith services will ensure that you have the peace of mind that comes from feeling safe and secure. Whether you need a small workspace or a large building secured, we offer services and packages that will fit your needs and budget. Ensuring your employee's safety is one of your top concerns, and we will do everything we can to make sure that you feel they are way.
We provide locksmith services for commercial buildings, office spaces, and any other workplace. All while maintaining our professionalism, and keeping our promise to quality and reliable work. We make the best first impressions by being prepared to work when needed, arriving on time, and completing the work as promised. At the same time, we will keep you updated by involving you in every step of the process so that you understand and know how your locks and security systems will operate. This will give you confidence in the security of your commercial property.
Depending on the size and scale of a commercial property, a variety of problems can occur, from small problems like faulty desk locks to more serious issues like a faulty alarm or property wide security system. Some of the services that we provide include the following.
Installation of Master Key Systems – The master key system will allow certain individuals access to rooms, files, or other sections of your business. There are several levels in a master key system, where the 'Master Key' which opens all the locks is given to the person in charge. This allows you to choose who is given access to what areas.
Small Locks Installation – Often times, employees will require a lock for their desk, file cabinet, or office, this is to ensure privacy and confidentiality of their work. We can install locks of all types, and can even provide packages for large orders of lock installations.
Key Card Access System – This type of system has been growing in popularity due to its professional look and simplicity, you can modify the system to give different levels of access to each employee.
We know the importance of security in a commercial property and will ensure you feel 100% confident in the security of your property. Contact us today for more information regarding our residential locksmith services.